Fisher & Paykel


MyAIRVO 2 Tracheostomy Direct Interface
Each
UPC: OPT970
SKU Code: FPOPT970
Fisher & Paykel MyAIRVO 2 Tracheostomy Direct Interface
Sold as Each
Optiflow Tracheostomy Interface offers a humidified high flow therapy for tracheostomy patients. This patient interface is mainly used to deliver humidified respiratory gases.
Features:
Evaqua™ technology - designed to reduce the formation of condensation
93% less condensate - connects to our AirSpiral™ breathing tube for 93% less condensate
Stable Easy to use - re-designed sputum guard provides stability and ease of use
Optimally humidified gas is delivered directly into the tracheostomy, minimising discomfort around the tracheostomy site
Lightweight and extremely flexible interface tube
Lanyard designed to take the weight of the circuit off the tracheostomy tube
Suggested Use:
To ensure loading and movement on tracheostomy tube is kept to a minimum, make sure the lanyard is secured properly. Lanyard position is not suitable for patients with damaged skin.
Connect to the humidification system. Make sure all connections are secure. If using an MR850, attach the tubing clip to the breathing circuit but ensure probe cable is not crushed by tubing clip.
Orientate the sputum guard so that sputum drains downwards. The sputum guard can be removed if required.
Warning:
Appropriate patient monitoring must be used at all times. Failure to monitor the patient may result in loss of therapy, serious injury or death.
Do not obstruct and or modify any part of the interface to avoid hypoxia from loss of therapy.
Do not use with an air entrainer, to avoid over-pressure.
Do not use near a naked flame, to avoid fires.
Do not crush or stretch tube, to prevent loss of therapy.
For single patient use only. Reuse may result in transmission of infectious substances. Attempting to reprocess will result in degradation of materials and render the product defective.
The lanyard poses a potential risk of strangulation to vulnerable patients (e.g. children).
The lanyard is designed to minimize loading and movement of the tracheostomy tube. Secure the lanyard properly to avoid accidental decannulation or airway damage.
The sputum guard is intended to be detachable which may pose a choking risk.
Caution:
Failure to use the set-up described above can compromise performance and affect patient safety.
Before connecting the interface, check for adequate gas flow and ensure that the system has warmed up.
Check for condensate regularly. Drain as required.
Do not use if packaging is not sealed.
Hospital Use:
This product is intended to be used for a maximum of 14 days.
Do not soak, wash or sterilise.
Home Use:
This product is intended to be used for a maximum of 30 days providing daily and weekly cleaning instructions are followed(Please see myAIRVO 2 User Manual).
| | |
| --- | --- |
| SKU | FPOPT970 |
| Barcode # | OPT970 |
| Brand | Fisher & Paykel |
| Unit Of Measure | Each |
Related
products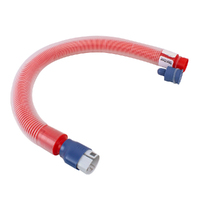 Fisher & Paykel
MyAIRVO 2 Disinfection kit - Orange Tube
$140.00
900PT600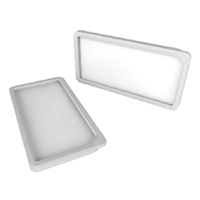 Fisher & Paykel
$45.00
900PT913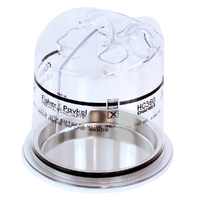 Fisher & Paykel
$140.00
HC360
More From
This Category